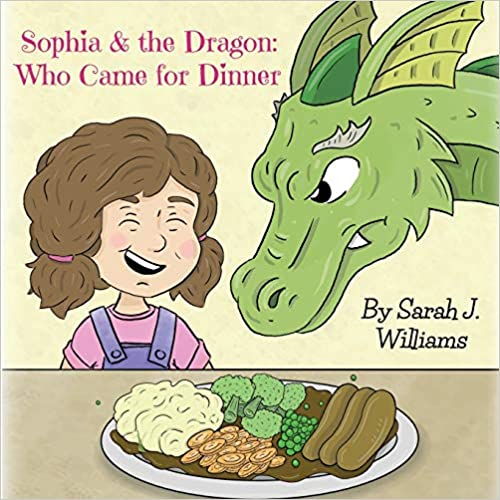 Sophia & the Dragon: Who Came for Dinner
Published: 6/30/2017
One day, when Sophia is settling down to eat her dinner, she gets an unexpected guest... A dragon has come to dinner! And he doesn't want to share his food. Being a starving and mischievous little girl, can Sophia resist eating it all?
Sophia & the Dragon: Who Came for Dinner is excellent for young children and their caregivers. This book is full of fun and is perfect to be read aloud - especially around dinnertime! It aims to encourage kids to clean their plates without parents ever having to resort to nagging. A book that your child will ask you to read again and again!
​Get a signed copy!
You can purchase personally signed copies of my book by me, the author. Email me through my contact form with the title of the book you would like to purchase. You can choose your text or simply request "To [insert name]. From Sarah J Williams." The signed book is £6.99 or $8.86. Postage depends on where you live and is covered by you. Why not buy it for someone you truly love?
Praise for Sophia & the Dragon: Who Came for Dinner
"The book is about bravery, mischief, but also about kindness and friendship. It helped my children finish their meals. As an extra bonus, the book has a game at the end, which the reader can play with their child whenever they refuse to eat their tea. It was great fun!" - Ben
"...well written and well drawn with a wonderful little girl and a great dragon 🐉 ! I liked the 'extra game' at the end and would recommend this book to anyone who likes children's books." - Matt Kratz
"A cute way to encourage picky eaters." - Gabrielle
"...adorable illustrations that both boys and girls will adore. At the back of the book the author even tells you the caregiver how to read the book and add sound effects for maximum enjoyment. [...] A great edition to your child's library." - Natalie Freese